For people whose cats are too naughty that all the furniture is scratched and damaged, climbing shelves are among the most effective solutions. Not only does it have a role in limiting the cats damaging other house items, but the cat tree also helps the animal exercise muscles and enhance claws.
However, each cat has a different interest, so finding a suitable one for the pet requires knowing about different types of climbing shelves and your cat habits.
Let's take the cat tree shapes as an example. Some individuals like horizontal climbing shelves, and some others are a fan of standing ones.
You're probably be confused now, right?
Don't worry. With our long experience in the pet care field, we understand what cat owners are concerned about, and our guides will show that.
We'll review 10 best-rated products for you. Also, if you love making cat climbing shelves, this article will be handy for you.
How to choose cat climbing shelves
Shapes
Standing form
Pros: It has a simple structure and occupies a little area, suitable for a place with a narrow space.
Cons: Unstable standing cat climbing shelf is likely to fall when cats scratch, which can harm the pets.
Horizontal form
Pros: Your cat will have better tendon relaxation with this type of cat scratching shelf.
Cons: It takes more space and is more difficult to hold in one place than the vertical one.
Multistage
Pros: Your cat can spend hours playing without getting bored. If your house has many cats, this cat climbing shelf will also be useful because you only need one.
Cons: It is more expensive than ordinary cat trees.
Cat condo
Pros: There is more space for the pets to play or simply rest. Its design will also make your home stand out.
Cons: It is more expensive than ordinary cat trees.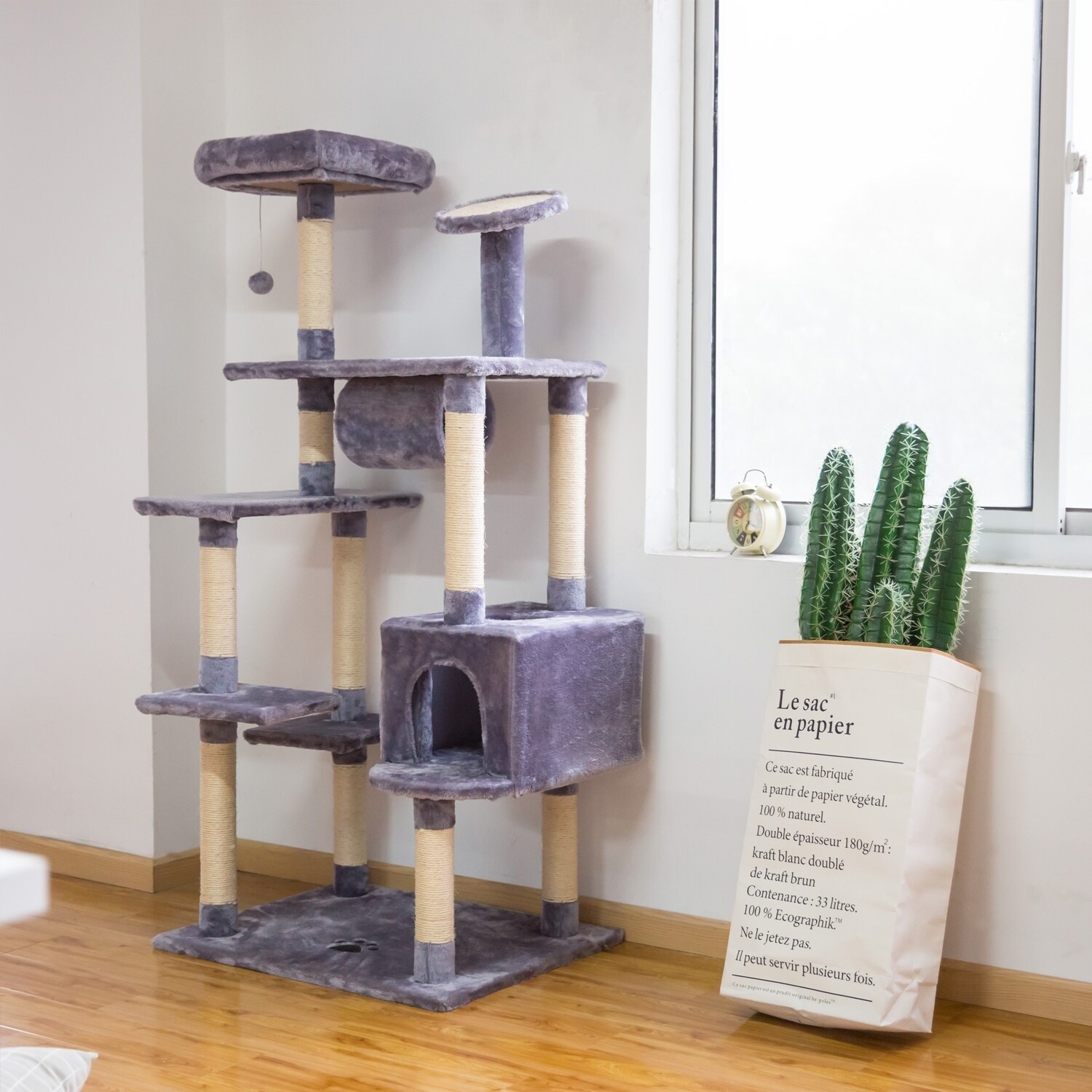 Read more: How to DIY a cat condo at home
Materials
Sisal rope
Pros: It is the most common type because sisal is a very solid material, can be used for a long time. The most significant advantage of sisal rope is that it can wrap objects of various shapes, making the cat climbing shelves more eye-catching.
Cons: You need to make sure that the rope you choose is durable and firm. Otherwise, while cats scratch on the rope surface, it can be dangerous for both the pets and the tool. Notably, cats can feel averse to similar things.
Cardboard paper
Pros: The price is low, and there's no noise when cats scratch on it. You can DIY cat climbing shelves at home if you have a lot of cardboard paper boxes. Not only can you save the cost, but you can also follow any shape you like.
Cons: Tools made from this material are very quickly damaged. Also, it will be quite messy after the cats scratch it, so you'll need to clean up the junk.
Wood
Pros: Most cats like to scratch on the bark. Wood is also a material that is not harmful to cat health, so it is very popular with many cat owners.
Cons: if you're not good at assembling, buying a natural wood cat tree will be quite expensive compared to other materials. Moreover, there is always a risk of wood chips.
Rug with a firm texture
Pros: Rug or carpet is the softest in the materials that you can choose for your cat. Also, it has the value of aesthetics, making the cat climbing shelves more attractive.
Cons: Cats cannot learn how to properly scratch with this material, so you should choose to combine it with other ones for the cat tree. Also, the carpeted surface can be damaged easily.
How to DIY cat climbing shelves with rope
Typically, we will wrap the string directly on the posts of the cat tree (if you have the conditions to buy one or have time to build for them) how to make cat climbing shelves.
You're probably wondering:
Which type of string to wrap the cat climbing shelf?
The answer is a rope. Do not choose soft materials like cotton or fabric. Because the cat's claws are very sharp and curved, it is easy to peel the covering when scratching.
You should choose the hard and durable wires with wooden color to make the cats feel closer to as they are scratching on a tree to mark the territory. Additionally, ropes made from jute bark are the best option.
So, which rope should we choose to wrap the cat tree?
It often depends on how high you want to wrap the cat tree and how big its ports are.
During the process, keep in mind that you should stick each piece of rope with a small amount of silicone glue into the post so that the wrapped string cannot be slipped or released by the cat claws.
You can also use small colored ropes to decorate the cat tree's stairs and floor to make it more prominent.
Top choices of cat climbing shelves for you
Go Pet Club is widely popular, along with their Go Pet Club Cat Tree offer. It can be said that the product is amazingly durable and functional with five levels of elevation, two cat condos, and four platforms.
We promise that you'll find it worth every cent of your purchase if you choose this one.
If you're still wondering about the scratching marks from your cats, the climbing tree will reassure you with the sisal wrapped ports and sturdy construction. Even the hanging rope toys will still be there after a few months of usage!
But, if your house is not too spacious, you should think of another choice since the cat tree will take up a significant amount of your home space.
Trixie brand did a pretty good job using plush and fleece to make the cat tree ridiculously soft and fluffy. Notably, if you are raising some kittens, then this product will be your best bet due to the reasonable price that it offers.
Also, every little cat will love to scratch, play with the balls, and sleep on the plush hammocks. The cat tree is quite small, but with 4-5 cats, it's still willing to handle all with few assembles.
And one more thing, you won't have to worry that the kittens can create the scratching marks because the product has a feature that can avoid them – verticle scratching posts.
Because the product is best for kittens, you will need to find other suitable cat climbing shelves when your pets get bigger.
Let's look at how the Trixie brand has been so successful. They offer high-quality and specialized products for kittens at a reasonable price, but what really makes this version different from our first recommendation is that it can be folded easily to store when it's no longer needed.
When you need to clean around the room, you can move it effortlessly also. Therefore, if your living space is not too big, then it is a solution for your pet.
However, like the other version, it's not suitable for big cats. Moreover, if your pet is too stubborn, the fabric covering seems cannot withstand his destruction after a short time.
The next cat tree that we have on here comes from Molly and Friends, a famous industry brand.
With the durable materials and solid construction, you can expect a sturdy cat climbing shelf that can withstand at a rate of 10-15 times the level you'd get from a normal one.
It can even accommodate multiple individuals, so if you are raising 3-4 cats, you can give it a try.
Despite the high-quality materials, the carpeted areas cannot endure the dense chew and scratching, so you should make sure your pets are trained well before purchasing it.
If your cat is too dynamic and plays all the games of the species, then it's no doubt that you cannot let him play in your room. But what if you don't have time to take your pet out?
The answer is very simple – Armarkat Cat Tree.
It might not be the best-looking cat tree in the world, but the multi-level design is excellent, and the result is both affordable and functional.
With various options of the three different levels, two platforms, and one hideaway, the product will allow your cat to accomplish his exploration while keeping him from damaging home furniture.
However, if your pet is overly overweight, this product is not for him.
If you find it's hard to seek a cat climbing shelf that all your cats (both kittens and adults) can be accessible, you'll want to pick up this 62-inch cat tree from Go Pet Club.
Why did we say that?
This cat tree can handle overweight cats, while it is also designed for small individuals. Therefore, it's very suitable for a cat family no matter how old and big the members are.
As you can see, the product includes two hammocks and a hide-out space, so your pets will surely have a fun time with each other.
Stylish and unique are a few of the adjectives that we could use when describing this cat climbing shelf. If you want your house look classy, we highly recommend this Vesper product.
You'll have a variety of colors to select according to the paint color of your home, from walnut, banana leaf, black, rattan to red.
It's easy to install, but you can look for directions on Youtube if you have any trouble understanding those steps. It will be more accessible and visible.
Moreover, one feature making the cat tree disadvantageous is the wooden surface that it can be easily scratched.
CatastrophiCreations is a well-known brand in the pet care industry with a focus on cat homes and amenities. The product that we mention here is a very-easy-to-install cat wall shelf that you will not have any trouble building for the pets.
However, the most outstanding product attribute is that it is incredibly sturdy that won't wiggle or move when the cats run on them. Hence, you can be assured that the product's life span is at least a few years.
With the material of the sisal rope, your cat will easily cling to it and will be able to sharpen his claws while climbing and exploring.
It's such killing two birds with one arrow, right?
What if you just bought a luxury home, and you fear the investment in cat climbing wall shelves will make the house lose its beauty?
Don't worry, because you'll love this CatastrophiCreations at first sight – just as your cat will do!
This climbing shelf has many wooden ladders and sisal holes, making it compatible with any house style.
Not only is the product appreciated for its aesthetics, but it is also ensured about the excellent quality. Furthermore, your pet can get used to his playground at the first uses.
However, there's a case that the screws and L-bracket are loose enough to leave some holes on the wall. So, to be sure, you should prepare more L-brackets per stable zone.
The feature of an ability to spread out is why we call it the most comfortable and flexible cat tree. It's unique and convenient, bringing your pets good and soft sleep on the spacious carpeted areas.
Furthermore, it's very steady, easy to install, and build that you only need less than 30 minutes to finish the job. In case you afraid that the cat tree will fall after a short time of usage, you can get the screw hole covers. However, we can say that they are not needed.
If you find some errors of rough splintery edges or miss-aligned holes in the process of installing the product, you can contact Amazon to receive a new one.
However, it's a great option that allows your cats to stay happy, comfortable, and many other features that a cat climbing shelf demands.
Our last words
All in all, the blue climbing shelf coming from the Go Pet Club brand is always our top pick because of all the advantages it brings to the pets while not requiring you to spend too much money. But, remember that not all cats have the same habits and interests, so the decision is still yours. If you need further information, don't hesitate to let us know. Please like and share the article if it's useful for you.