There is nothing to worry about because living with a blind cat is not complicated at all. A blind cat is no less than a normal cat. It is still capable of living, behaving, and functioning. However, just like humans, when cats lose sight, their other senses become stronger. That means a blind cat will rely on smell, hearing, touch, and vibration to survive and adapt to its surroundings. So you shouldn't look down on a cat just because it's blind. What you need to do is take care and raise the blind cats appropriately.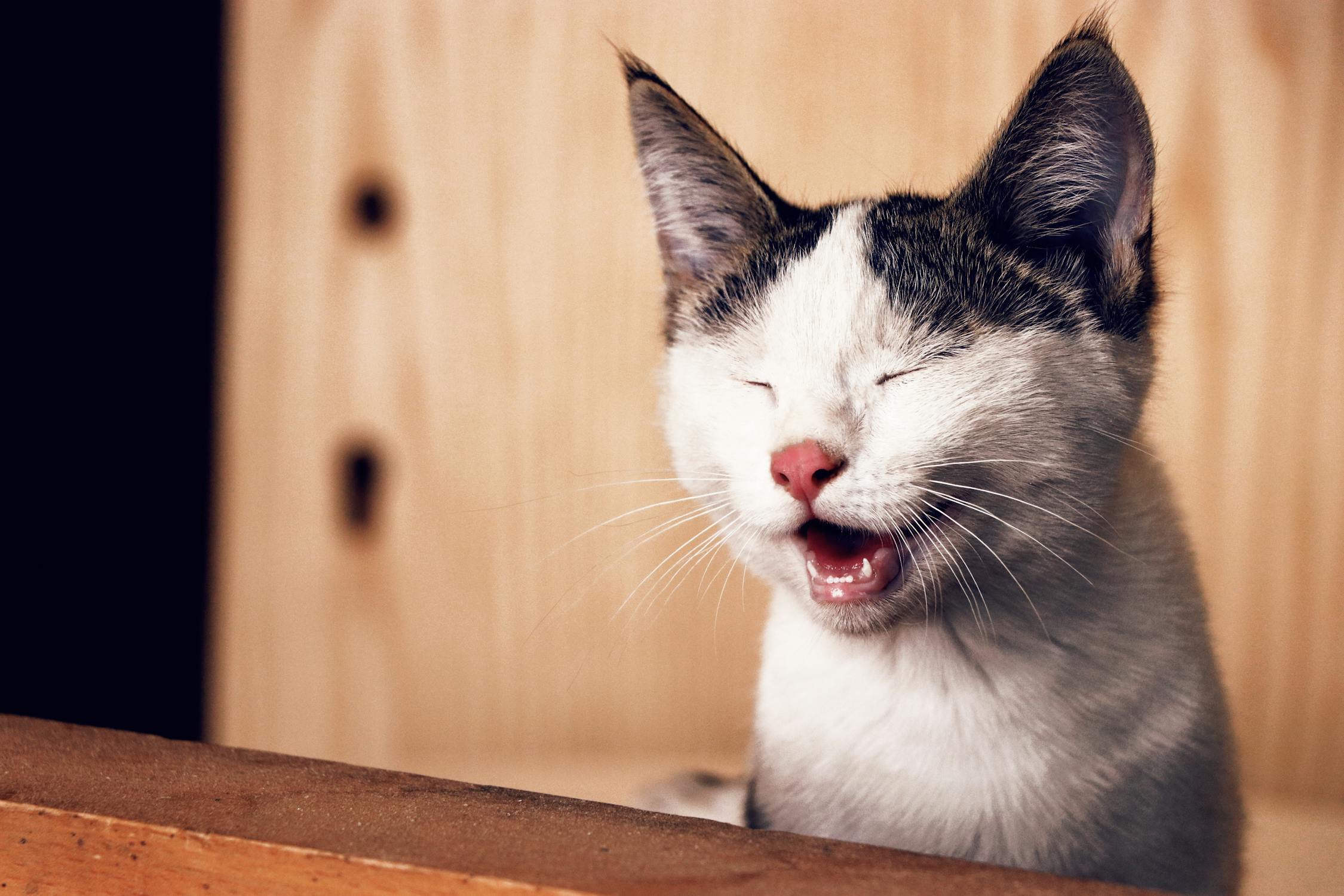 In a cat's life, toys are indispensable because they bring joy to them. And blind cats also need toys that are useful and interesting. However, it is not easy for you to choose suitable toys for cats that cannot see. Here is a list of 5 Cute Toys Blind Cats Love that I've picked out to help you.
5 Cute Toys Blind Cats Love
Blind cats are cats who have lost the ability to see. So you'll turn to things that appeal to all of their remaining senses. And it is a fact that the cat's hearing will come to mind first, and we forget that the cat's sense of smell also needs to be awakened. Cats have at least ten times more receptors in their noses than humans. That's why the sense of smell is a perfect way to attract blind cats. In this situation, the catnip toy is an ideal choice.
Yeowww! Catnip Toy, Yellow Banana is one of the great catnip toys. True to its name, it has a bright yellow banana shape, but you can't deny that this doesn't matter to a blind cat. What makes this toy stand out is its catnip scent from catnip plants grown 100% organically by trusted farmers. So it will be very safe with cats. Especially if your cat is a big catnip fan, there's nothing better than that! Besides, Yeowww! Catnip Toy, Yellow Banana is made from durable cotton that filters out the smell of catnip. This stuffed catnip toy has a soft texture and is also durable enough to endure the biting and scratching actions that cats will.
You can hide this toy around the house to give blind cats some fun finding toys based on their sense of smell.
Yeowww! Catnip Toy, Yellow Banana will pamper your blind cat with both senses of smell and touch.
Pros
It has the perfect curve and size that a cat will love.
Made of soft cotton fabric.
Use dyes made from soy and/or plants, which certainly cannot harm the cat.
100% organic catnip.
Cons
Durability is not very good. Therefore, this product is not suitable for aggressive players!
The price of this toy is not low.
For some cats, the catnip scent from this toy may be too strong.
This toy is simple, but your blind cat is sure to love it. Different from regular balls, HDP Spot Mylar Balls Cat Toys are wrinkled balls. Whenever cats touch, these balls will create crinkle sounds which can stimulate both the sense of touch and the hearing of blind cats. It sounds simple, but it can provide cats with hours of fun and entertainment. 
HDP Spot Mylar Balls Cat Toys is a toy that no cat can refuse its attraction. With these balls, your kitten will be happy for hours. And it's a good way for cats not to get bored and become physically active as well as mentally delighted.
You can also create a game for the cat by scattering Mylar balls all over the house and letting the cat find them. Finding these balls is not only fun for the cats, but it will also help your blind cat navigate any changes at home.
Pros
Stimulates both hearing and touch of cats
Safe, soft, and lightweight Mylar texture with bright metallic color. With a safe, non-toxic mylar texture. You never need to worry about them hurting your kittens, even if they step on them with their bare feet.
It is light and has a small size (1.5 inches) so that cats can easily grasp and carry when they want.
There are many packages (4 Pack, 8 Pack, 12 Pack, 16 Pack) for you to choose from.
Cheap
Cons
Some cats are not interested in this toy (according to some feedback). Therefore, you should consider carefully before buying this toy for your cat. Make sure your cat likes it before deciding to buy it.
When this toy comes in contact with water, the toy's dye may bleed. Therefore, avoid exposing this toy to water if you do not want to deal with the dye's staining.
Blind cats rely on scents and sounds. When it comes to attracting blind cats with scent, is there a better scent for kittens than catnip?! So there is nothing more appropriate than a catnip toy. There are many catnip toys with different shapes and characteristics. But I believe the best toy for blind cats is the one that stimulates multiple senses at the same time. That's why I included SMARTYKAT Chickadee Chirp Electronic Bird-Sound Cat Toy in this Cute Toys Your Blind Cat Will Love list! Because of the many things it integrates, perhaps this would be the perfect toy for any blind cat.
SMARTYKAT Chickadee Chirp Electronic Bird-Sound Cat Toy is a sound toy in the shape of a bird that is sure to provide hours of fun for your blind friend. It will emit realistic bird sounds with just a light touch, which can trigger a cat's natural hunting instinct. In addition, SMARTYKAT Chickadee Chirp Electronic Bird-Sound Cat Toy also includes the scent of catnip that stimulates the sense of smell of blind cats. This stuffed toy is a perfect combination of scent and sound because it has a lively sound and a wonderful catnip smell, as well as a soft texture to make the best combination. And for sure, your cat won't be able to resist its charm!
Pros
Catnip in this toy is made with pure ingredients and contains no chemicals or pesticides. That means your cat can play with peace of mind without any health effects.
It brings the most vivid sound to stimulate the hearing of blind cats.
It is stuffed with soft cotton with a pleasant smell of catnip.
Awaken the hearing, smell, and touch of any blind cat.
Cons
The durability of this toy is not high. It may be damaged if subjected to too much impact from the cat.
Its sound may annoy you in some cases.
As we all know, cats' hearing is very sensitive, even better than dogs' hearing many times. Cats use their ears for a lot of activities such as hunting, navigating, etc. And in the case of blind cats, the ears will work more quickly to help cats recognize and communicate with their surroundings.
Many cat toys are beneficial in engaging your cat's keen hearing. These are toys with bells or sounds that make cats excited. Pet Qwerks Cat Babble Ball with Catnip Infused, Interactive Cat Toy is one of them. It is designed to accommodate cats who have lost the ability to see in some way. First of all, this toy makes more than 20 meows, beeps, and meows that affect the hearing of blind cats to attract them. Next, it comes in the form of a ball, so your cat can easily roll it everywhere in the house. When blind cats play with this toy, they can monitor the sounds coming from the toy to know its movement and determine where it is. That's how this toy entertains blind cats and also trains blind cats to navigate in the environment. The sound that Pet Qwerks Cat Babble Ball with Catnip Infused, Interactive Cat Toy brings will keep your cat happy. Plus, the ball is sturdy enough for cats to play around with. This toy will provide hours of healthy fun, relieve boredom, and give your cat exercise.
Pros
Easy to use: You can clean the toy by cleaning it. And one thing advantage is that you can replace its battery easily
Various sizes are available. You can optionally choose the right size for your cat
Interactive toys that make over 20 squeaks, beeps, and meow
Durable texture
You can activate the motion, set the sleep mode to have the toy turn off automatically.
Cons
In some cases, this toy can be a noisy thing and can annoy you and your cat (because it makes a sound whenever it moves or someone touches it)
Not suitable for some cats because it is so big and heavy that some cats have difficulty playing with them. So learn about sizing and considerations before you buy!
Cats usually sleep about 16 hours a day. With plenty of time spent sleeping, cats need physical activity to stay healthy. Play is one of the necessary physical activities that bring joy and relaxation to cats and help them exercise. In other words, physical activity from play acts as more than just a workout; it also reduces anxiety, stress, and boredom.
For a blind cat, playing with the owner is very important. Playtime together is not only fun for both humans and cats, but it also helps strengthen the bond between two pets and their owners. OurPets Play-N-Squeak at Night Twinkle Mouse Play Wand Cat Toy is a suggestion for you when you want to interact with your blind cat.
OurPets Play-N-Squeak at Night Twinkle Mouse Play Wand Cat Toy is a basic chopstick toy that simulates the cat's prey – the mouse.
Why is it a wise choice for blind cats? The answer is because this interactive toy will emit sounds and catnip scents that attract the hearing and smell of blind cats. Besides, you can also use this toy to make buzzing sounds by moving it in the air or sliding it on the floor. This way will help your blind cat play as he can hear these sounds. OurPets Play-N-Squeak at Night Twinkle Mouse Play Wand Cat Toy will be a great toy to play with your blind cat.
Pros
Easy to play
RealMouse technology included in this toy will provide realistic sound
Long-lasting battery
Includes Catnip scent
Cons
It's not very durable.
Some cats may not like the sound made by this toy.
Of all the toys for blind cats, none compares to a kitten's outdoor adventure! So I recommend that besides letting your blind cat play indoors, try taking the cat for a walk and explore the outside world. Don't worry about your cat getting hurt because blind cats can learn very easily to walk safely outside. That will also be an exercise for cats to get used to not being able to see!
Conclusion
Blind cats can live a joyful life without their eyesight. If you're sharing your life with a blind cat, don't forget that she needs just as much play as other cats!
Just because your blind cat can't see doesn't mean he can't play or exercise. By finding the right toy that matches your cat's interests from consulting my list of 5 Cute Toys Blind Cats Love, you'll find it can do more extraordinary things than you think! Besides, you can also refer to the article 10 funny exercises cats will love and choose the right exercises for your cat. Keep your cat mentally and physically stimulated to stay healthy, which will enhance your cat's quality of life and foster a healthy relationship between you and your cat.
Enjoy a fun and rewarding life with your best friend!