Speaking about cats, there are more than one species that are living with you, sharing your bed and scratching your couch. We still have more than 40 species of wild cats out there.
Whether in home or ruling the jungle, the feline family showcases some of the most fascinating characteristics of being a cat. Distributes from the Himalayas' high altitude to the exhausted field of the Sahara, along the banks of tropical waterway to chilling cold of Alaska, wild cats are there to adapt and become unique species of such terrain.
With genetic analysis sheds slightly on the matter, cat taxonomy adds more family members after a while. You may wonder what distinguishes the feral whiskers and the house ones and the things they share that make people call them cats, as well as the number of accepted wild cats in the world.
Our world has recognized 44 species at present. I have put together an updated list of all types of wild cats, their feline lineages, and pictures of their representative.
Types of wild cats
Big cats
The big feline brothers in the wild distribute their population throughout the world. All of them are marked endangered and living in reserves.
1. Lion (Panthera Leo)
Weight: 300-500 pounds
Status: 1 subspecies endangered
This king of the desert is in the largest group of felids distinctively live in an organized society. The muscular cats own excellent hunting skills by ambush, chasing speed, and group work.
Their existence in the Gir forest, western India, is critically in an endangered population of about 290 individuals. They have disappeared in North Africa, Western Asia, and the Middle East.
2. Leopard (Panthera pardus)
Weight: 90-150 pounds
Status: Endangered
AKA panther in Asia, the species has a lithe build and speed of the fastest to serve their hunting need. Leopard can climb and hunt from above. Their swimming skill is also powerful, although they are not as strong as other big cats.
Leopards are opportunistic hunters that demonstrated their huge strength in taking down a full-grown antelope. When living close to human habitats, they may hunt for rodents, domestic animals, and livestock.
Though the species has a greater survival number across Africa and Asia, the leopard in the Middle East and southwest Asia is now under extreme risk of extinction.
3. Cheetah (Acinonyx jubatus)
Weight: 65-110 pounds
Status: Endangered
Known as the fastest runner on Earth, cheetahs in the grassland and forest of Africa, the Middle East, and South-central Asia are aggressive hunters of antelopes and grazing animals.
The number of cheetah in the north of Asia today is close to extinct due to inbreeding, diseases, and climate change.
4. Snow leopard (Uncia Uncia)
Weight: 150 pounds
Status: Endangered
The only big cat that can't give a deep full roar is here, but with powerful limbs and long wooly hair, snow leopards inhabit mostly in mountainous and snowy terrain.
5. Jaguar
Weight: 90-300 pounds
Status: Endangered
Sharing is the same as leopard, but jaguars have shorter tails, more stocky muscles, and small dots within the larger rosette markings. They accommodate mostly in the rain forests with a higher density in the center of lowland.
6. Tiger
Weight: 200-500 pounds
Status: Endangered
This is the largest and most powerful cat in the family. However, the size varies throughout sub-species. Tigers dwell in the forest near any water source. They live as nocturnal hunters eating larger mammals and also the smaller ones.
Small cats
Meet the different types of small wild cats with a less-dangerous look and more adorable.
7. Bobcat
Weight: 15-35 pounds
Status: stable
The species has a large population in most terrain. These cats are territorial hunters. Their favorite preys are rabbits, gophers, and small mammals. Bobtail cats are small compared to their aggressive brothers, but in exchange for that are the sturdy build, legs, and speed.
8. Puma
Weight (kg) – 30-85
Status: endangered
This is a cat of many names. People in different regions call puma cougar, panther, or mountain lion. Puma is a powerful hunter in the jungle stretch from southwest of Canada to the west of North America throughout the west of the continent of South America. Although considered small cats, pumas are fast predators and big enough to tackle bigger prey.
9. European wild cat
Weight: 10-30 pounds
Status: Unknown
With the appearance of elegance close to the cats we have at home, it's easy to mistake this wildling untamed buddy, a domestic furry king. In fact, they are the direct ancestors in the line of house cats, but more of disastrous tabbies that are not at all willing to play silly in front of us.
To survive the European winter, these cats grow a thick, long coat. When living near human habitats, the vicious wild guys seek small mammals as rats, squirrels, birds, and poultry for meals.
10. Black-footed cat
Weight: 2.5-4.5 pounds
Status: Endangered
The endangered feline now has a small group thriving for life in Africa. In the deserts and savannahs of southern Africa, the species is under hunting pressure for the tiger-like coat. They have the size of a tabby cat but are not cordial enough for anyone to approach.
There are more than 30 species of wild cats mentioned below with pictures.
11. African golden cat
12. Asian golden cat
13. Canada lynx
14. Caracal
15. Chinese dessert cat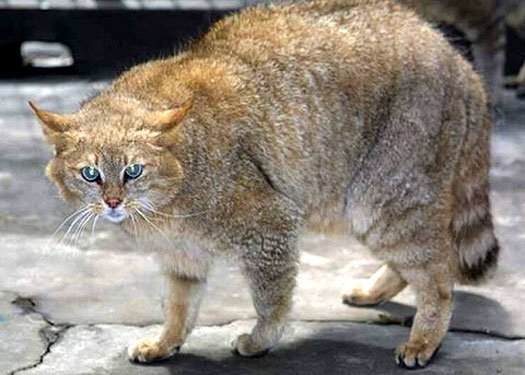 16. Ocelot
17. Borneo bay cat
18. Jaguarondi
19. Margay
20. Rusty spotted cat
21. Sand cat
22. Oncilla
23. Jungle cat
24. Serval
25. Clouded leopard
26. Eurasian lynx
27. African wild cat
28. Flat-headed cat
29. Kodkod
30. Pallas cat
31. Pampas cat
32. Leopard cat
33. Geoffroy cat
34. Andean mountain cat
35. Fishing cat
36. Iberian Lynx
37. Iriomote cat
38. Marbled cat
39. Leopardus Guttulus
40. Sunda Clouded Leopard
With the modern breeders and natural selection working together, we can expect there are more species adding to the feline family, making the variety in nature more abundant.